Doug's Antenna Transformer Page
---
Antenna Transformer Construction and Testing
In November, 2000 I put up a 350-foot long piece of wire that runs straight west out of my basement radio room, about 5 feet high thru bushes and trees out into the woods next to the house. There's a description of the installation on my new Wire Antennas page.
Antenna Impedance Matching Transformers (Balun, Unun)
Reading all the antenna website info made me decide I should try a matching transformer between my long wire and my RX320, which has a low impedance input. The antenna literature says long wires are 400 to 600 ohms, and the low impedance input is designed for about 50 ohms.
There are Baluns and there are Ununs. Mine is an Unun because both windings have a ground connection. I wanted the antenna to have a DC ground, and a long-wire is inherently unbalanced anyway.
The transformer is wound on an Amidon FT-50A-77 core, with 30 turns on the antenna side and 10 turns on the reciever side. I made pictures of it. First is the completed transformer, still in the vise, next to an empty core.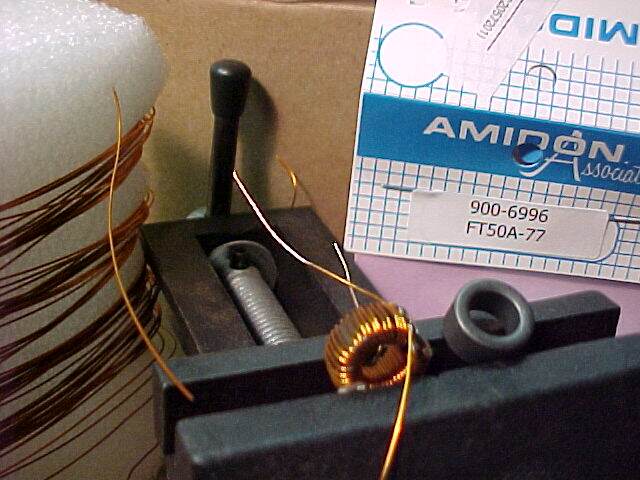 Next is the completed assembly, mounted on a blank cover for a weatherproof outdoor outlet box.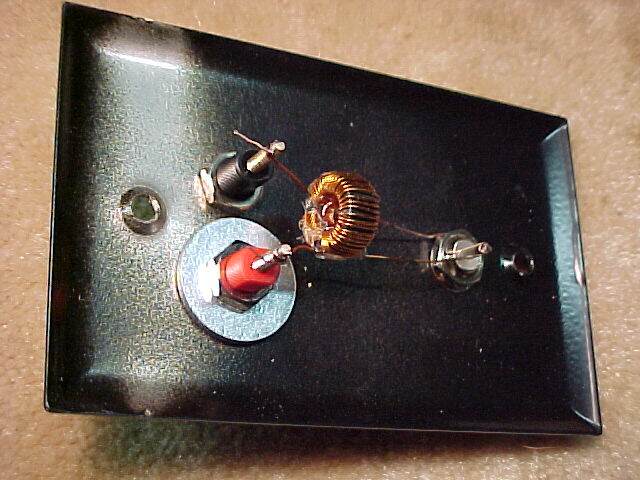 For plans and schematic diagram, see http://www.kc7nod.20m.com/new_page_1.htm
For info on winding toroids, see http://ww2.netnitco.net/users/wt9w/Toroids.html
And for a very nice how-to article (in Word format), with plans and pictures, entitled "Fabricating Impedance Transformers for Receiving Antennas" see http://www.dxing.info/equipment/impedance_transformer_bryant.doc
---
Results:
The results of connecting the transformer are in these bandscan images from the KF5OJ RX-320 Control Software.
The maximum scan is 500kHz wide so I had to make 3 scans to cover the AM BCB for each condition, with and without the transformer. Unfortunately I missed recording one image, the upper or Extended band without the transformer. So the last image may not be very helpful without its opposite to compare with.
With 9:1 transformer, 6:20pm, 12/5/01: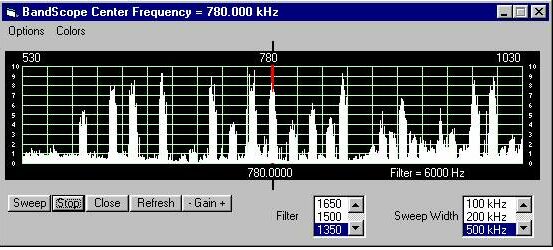 without 9:1 transformer, 6:22pm: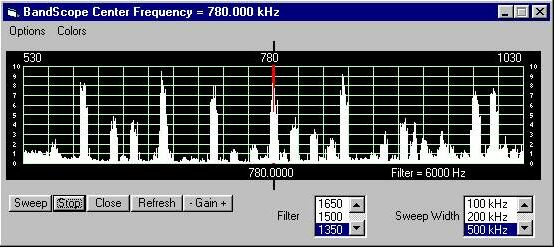 More without transformer, 6:24pm: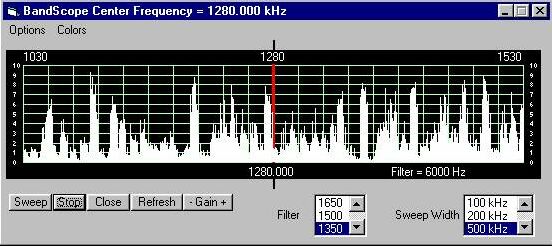 And with transformer, 6:32pm: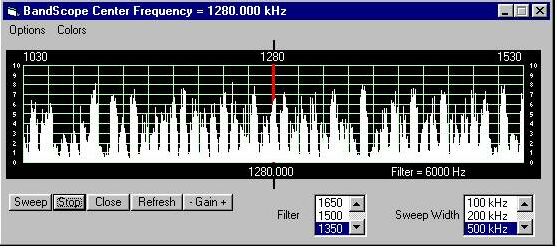 And finally, the Extended Band, With transformer, 6:35pm: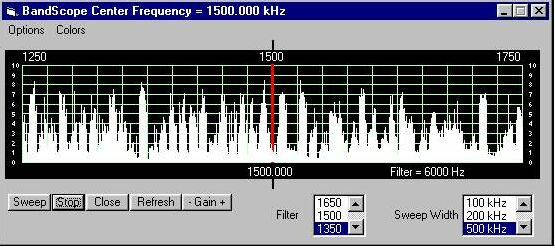 So, I'm not sure if this helps anyone evaluate the usefulness of using a transformer, but I hope this data is interesting.
---
--home --- Click to -----------e-mail me. -- created December 17, 2001 updated October 3, 2002
---