! DOCTYPE HTML PUBLIC "-//W3C//DTD HTML 4.01 Transitional//EN" "http://www.w3.org/TR/html4/loose.dtd">
<!- By InfoLink "http://www.netonecom.net/~swordman/GetThePoint.htm" Don't Edit ->
Get The Point
The Amazing Web Site by and for Doug and Karin - home page
updated July 1, 2007
---
Interests include: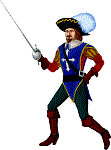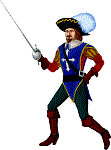 Metalworking
: including a separate page with all my links to interesting sites: metal links

Machining (lathe, milling machine, shaper, drill press, etc.) Pictures of my machinery!
Hand-made swords, daggers and armor - even How to Make Swords and Hilts - see the Sword Page

Woodworking
, including making canes, staffs and walking sticks. Even sword canes!
Digital Photography
. In July, 2000 I got a Sony Mavica MVC FD-73 camera. I love it! It stores its pictures directly onto floppy disks in JPG format, ready to post on the Web. And the 10-to-1 zoom ratio is wonderful. The close-focusing capability is really handy too. I've used this camera for all my website photos and for my eBay pictures as well.
Music
- playing old-time country fiddle. Go to the Music Page and play a few of my favorite tunes.
Humor
- mainly one-liners and puns. I've just "discovered" Stephen Wright's stuff. Lots of them on the Humor Page! This is 22k big, with 15 (printed) pages!
Society for Creative Anachronism
(SCA) and lists of sword suppliers for fencing and for re-creation. Big list of links to sword suppliers sites, too. You can follow the SCA Link Ring and the Armourer's Ring links from this page. Also on this page is a list of the pictures of SCA schlager fencing hilts. I had planned on adding a long list of armour site links, but there are already so many that it didn't seem worthwhile. I do have that link to the Armourer's Ring, however. Give it a try!
Rollerblading
(in the driveway). Rarely, though, unfortunately.
Hiking
Amateur Radio
and electronics page. I got my Novice license while I was in the 5th grade. And I'm still K8RFT, although I'm not active on the air. What little radio I do is Scanner monitoring and Short Wave Listening. The "Short Wave Radio" and "Loop Antenna" pages are accessible from this page.
Shooting
. I like .22 rifle target shooting. Won a couple of medals in a state match for junior shooters 'way back when I was in Junior College. But I haven't done any shooting now since we moved back from Alaska about 13 years ago. I've always been a bit interested in gunsmithing, too, but haven't gotten past buying several books and doing some work on a few of my own guns.
Tools
- all sorts of tools. I've got so many tools that I can't believe it. I often run into one I'd forgotten I had. But there are still many more that I want. (Next on the want list are sheet metal working tools). I like using them, fixing them up, making them better than original, repairing them and just looking at them. Part of my work as an electrical controls engineer involves using AutoCAD, and I enjoy customizing and modifying it with macros, special menus, and so on.
Work
- Controls System Engineer. Everything from water treatment plants to plastic molding machines to complete production lines in chemical plants. I really enjoy working with machinery and controls. It's almost like getting paid for a hobby. I've been interested in tools and machinery for years and have built up a rather large collection. And electronics has been a primary interest even longer, so the combination just sort of came naturally. Since I'm currently unemployed and am actively looking for a new position, I have my resume in HTML form and stored on my web site, but I don't publish the URL. We don't want all our personal information completely open and visible. If you need to see it, e-mail me for the URL or a Microsoft Word document file version by return email (please put "need resume" in the subject line).
I have worked occasionally on contract and/or temporary jobs, although not by choice. A recent one was for K-Force Technology Staffing, in Southfield MI. They offered a job for a month doing PLC program modifications and upgrades at a job site near Toronto. Then I learned that heir customer only planned on a two week job. The plant in Canada wasn't ready, though, and I worked only a week. A month after I returned I had still received no pay, but my credit card bill with all the travel, food and lodging expenses arrived. So I have two recommendations for any others who may find themselves in a similar situation:

Don't finance your own trip. Demand prepaid expenses or the use of a company credit card.

Don't work for K-Force.
Check out our favorite stuff: favorite things, favorite places, favorite foods, favorite recipes, and more.
Reviews of MP3 & MP4 players, tools, books, restaurants, libraries and anything else we like or dislike and where our opinions might help someone else. NOTE: still growing, still under construction and incomplete!
Karin's Interests:
Internet Newsgroups
Reading
Crochet
Baking
Bicycling
Rollerblading
Hiking
Travel
Cats page - for a picture of Pookie and pictures of Fred, also a list of rules for stray cats.
---
Click to ----------e-mail me. ---------
---