The Aquarian Survival Flute
by C. Michael Smith

Stop by and visit our personal web server just click here
Click here to see and hear a video clip (RealPlayer needed) of Michael playing a short tune on a Carved E Survival Flute
---
Each Aquarian Survival Flutes is hand-crafted by Michael Smith, from a recycled and specially molded high-impact polypropylene (simply put, a virtually unbreakable and very durable recycled plastic).
Each flute is then individually hand fired (The Ultimate Purification) which gives them their beautiful and characteristic "wooden" finish. Each flute is prepared to have the same density and sound quality of a fine rosewood.
Aquarian Survival flutes are totally waterproof, guaranteed not to crack, split, dry out or peel. They are perfect for playing in the tub, or in the rain, the woods or city, anywhere you happen to be!
---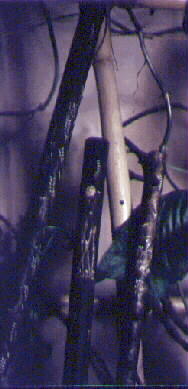 Aquarian Survival Flutes are virtually indestructible
Perfect for kids of all ages.
Available plain or delicately hand-carved (see more pics), each Aquarian Survival Flute comes with written playing instructions and a handmade cloth carrying case.

The flutes that are "linked" will play a Real Audio file. The file contains the basic scale and a short little piece that popped into my head after playing the scale. Hope you enjoy them. To hear the flutes being played, you need to have the Real Audio or Real Media player installed. Enjoy!

---

The following is a brief description and the notes contained in the different musical keys.

The "C" is the highest, and the most familiar scale, Do-Re-Mi-Fa-Sol-La-Ti-Do. No sharps, no flats. The "C" is the flute that is easiest for small children (3-5 years) to finger and play. The upper octave can be quite shrill.
The "B" flute is slightly lower in tone and longer in length. It has a pleasant scale, containing B-C#-D#-E-F#-G#-A-B. Not quite as shrill as the "C" in the upper octave and can be easily played by children 5-8 years old.
The "A" flute is probably the most popular of the smaller, higher sounding flutes because of its size, sound and scale, A-B-C#-D-E-F#-A. It also has a fingering pattern that almost anyone can play.
The "G" is a popular keyed flute, as there is a great deal of guitar music played and written in the key of "G". If you are going to be playing along with a guitar, the "G" flute might be the best for you. The notes of the "G" scale are: G-A-B-C-D-E-F#.
The "F" & "E" are two mellow sounding and easy to finger flutes. If you are just playing for and by yourself, either of these flutes would be suitable. Both are within a comfortable reach of most peoples' fingers. They have pleasant scales and are very nice to listen to, as well as play. The notes in the "F" scale are F-G-A-Bb-C-D-E-F, and the key of "E" consists of the notes E-F#-G#-A-B-C#-D#-E.
The "D" flute produces the deepest, lowest sounding tone - very mellow. It does however require a long stretch of the hand to finger the flute properly. Almost anyone can accomplish the stretch, but it does take some time to limber a stiff hand and make it flexible enough to make that long stretch with the right pinkie finger. The key of "D" consists of the notes D-E-F#-G-A-B-C#-D.
I play them all, and like them all - depending on the mood I'm in, or hope to be in when finished playing. Rarely do I play recognized songs or previously written music. You might hear something that sounds familiar, but when I play, it's not me that is playing, but the flute, tuning and playing me. As each note in the musical octave has a specific vibration, we, as vibrations ourselves, need the sound and blend of certain notes to help us be more "perfectly" tuned. So, I play them all, choosing the key depending on my mood.
My overall favorite is the "E". Probably because the "E" happens to be the note that corresponds to my astrological vibration (6 planets in Leo, including the Sun & Moon). Playing the "E" flute helps keep me in "tune". We all have a certain vibrational rate, with a corresponding note that matches our own "inner" tuning.
We must also keep in mind, however, that we continually have a need for balance and a blending of all the notes (12) in the complete chromatic octave, and it is this blending which will make us whole. My belief is that music, like life, requires all notes and a combination of vibrations. The uniting of our collective energies; human beings, plants and animals; all and everything; completes the grand scale here on Earth and in the Heavens.
---
When ordering, please indicate your key preference, if any, and style (transverse or end-blown) and age and date of birth of the principal player. Plain, standard transverse flutes are $35, the hand-carved Survival Flutes are $55.
For the more advanced player, or for those who like a challenge, we also produce an "end-blown" style flute. Differing from the standard transverse style described above, these flutes are played holding the flute in front rather than to the side. They are my own adaptation and variation of the Japanese "Shakuhachi", the Peruvian "Quena" and the Native American Sioux "Courting Flute". The standard plain, uncarved "end-blown" are $45, delicately carved $65.


For individuals who prefer a more natural medium, we also offer a variety of metal flutes and one-of-a-kind, individually hand-crafted wooden flutes and specialty metals. Both transverse and end-blown styles are available. Price structure for the metal and wood flutes depends on the materials used. Copper seems to be the most popular of the metal flutes with prices starting at $55. Wooden flutes are made-to-order; prices start at $120, contact me to discuss your needs.

My latest news is that I now have a couple of new keys from a few custom orders. I now have a high "D" flute - basically the same key as a standard Irish Tin Whistle, and a wonderful low "Eb"(E flat). Make sure to inquire if you have a special need. I am also working on a set of matching drums of varying styles, a diggereedoo, and, I've been playing around a bit with a couple of reeded instruments. I' also back working on a new set/style of a really playable pan pipe. So, stay tuned. Questions?? email me....
---
Just a few comments I've received
Click here to see and hear a new video clip (real player needed) of Michael playing a short clip on a Carved E Survival Flute
Need to send some money? Somebody need to pay you?
Can't accept credit cards? Now you can! Check out PayPal!
For those who may be interested in vibrational influences,
I list the following:

Relationship of tones, frequencies, notes, colors, planets and astrological signs:
Keynote

C

Mars

C#

Venus

D

Mercury

Eb

Moon

E

Sun

F

Mercuy

F#

Venus

G

Pluto

Ab

Jupiter

A

Satun

Bb

Uranus

B

Neptune

Cycles/sec

261.2

292.1

329.1

349.2

392

440

493

Sun Sign
(traditional colors)

Aries


Taurus


Gemini


Cancer


Leo


Virgo


Libra


Scorpio


Saggitarius


Capricorn


Aquarius


Pisces


Color

Red

Orange

Yellow

Green

Blue

Indigo

Violet




The following is a list of the major musical keys:


| | | | | | | |
| --- | --- | --- | --- | --- | --- | --- |
| Key of C | Key of B | Key of A | Key of G | Key of F | Key of E | Key of D |
| C | B | A | G | F | E | D |
| D | C# | B | A | G | F# | E |
| E | D# | C# | B | A | G# | F# |
| F | E | D | C | Bb | A | G |
| G | F# | E | D | C | B | A |
| A | G# | F# | E | D | C# | B |
| B | A | G# | F# | E | D# | C# |

Need to send some money? Somebody need to pay you?
Can't accept credit cards? Now you can! Check out PayPal!


Please feel free to call or write for additional information. I'm happy to talk to anyone; written responses might take a few days.

For further information:

C. Michael Smith
PO Box 18
Paris, MI 49338 USA
(231) 796-0173

---
Do you have a web page?
Add your link here
Add a link to your page - click here
View the pages of other flute visitors - click here
Powered by UrlBot.com
---
12/03/01